Multi-level prevention system includes three levels of intensity or prevention. The primary prevention level includes high quality core instruction. The secondary level includes evidence-based intervention(s) of moderate intensity. The tertiary prevention level includes individualized intervention(s) of increased intensity for students who show minimal response to secondary prevention.
At all levels, attention should be on fidelity of implementation, with consideration for cultural and linguistic responsiveness and recognition of student strengths.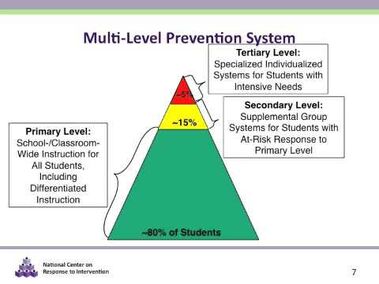 Multi-Level Prevention System checklist:
http://utw10206.utweb.utexas.edu/sites/default/files/documents/Action_Plan_Guiding_Questions.pdf
Webinar explaining RTI implementation and multi-level prevention systems: https://www.youtube.com/watch?v=HrLF8nHbKKo
Sources:
Ad blocker interference detected!
Wikia is a free-to-use site that makes money from advertising. We have a modified experience for viewers using ad blockers

Wikia is not accessible if you've made further modifications. Remove the custom ad blocker rule(s) and the page will load as expected.