Screening is conducted to identify or predict students who may be at risk for poor learning outcomes. Universal screening assessments are typically brief, conducted with all students at a grade level, and followed by additional testing or short-term progress monitoring to corroborate students' risk status.
In screening, attention should focus on fidelity of implementation and selection of evidence-based tools, with consideration for cultural and linguistic responsiveness and recognition of student strengths.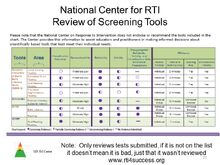 Sources:
http://images.slideplayer.com/16/5115866/slides/slide_21.jpg
http://www.rti4success.org/essential-components-rti/universal-screening
Ad blocker interference detected!
Wikia is a free-to-use site that makes money from advertising. We have a modified experience for viewers using ad blockers

Wikia is not accessible if you've made further modifications. Remove the custom ad blocker rule(s) and the page will load as expected.